Click title or picture for full article.
Swedish Fire steelby Light my Fire


Light my Fire Swedish Fire Steel Fire Starter
Comes in both Army model and Scout model

We test the Army model:
# Uses a magnesium alloy that consists of 7 metals
# Lasts for approximately 12,000 strikes
# Produces a spark temperature close to 3,000°C (5,500°F)
# Bright spark – can be used as emergency signal
# Functions in rain and snow
# Dimensions: main component is approx. 3.75" long
# Weight: approx. 1.9 ounces


Basically, what we have is a rod made of Ferrocerium and a metal blade to create the spark. Often referred to as a flint rod, ferrocerium is a great fire starter tool.
How to use ferrocerium rod fire starters:
The rod will be covered in a light coat of paint. This keeps the rod from corroding. Scrape the paint off with the striker blade. Run the blade down the rod and a shower of sparks will fly towards the tinder. Practice at different speeds and pressure to see what works best for you. I tend to put the rod on the ground right below my tinder.


Ferrocerium: a pyrophoric alloy of iron with cerium; used for lighter flints. It is capable of igniting spontaneously in air with the use of friction. This alloy of iron and rate-earth metals is used for tools such as Swedish Firesteel and the Blastmatch. It has been used for the flint in lighters and military tracer rounds.


The Light my Fire Swedish Firesteel rod is compact and you can easily attach it to a key chain or backpack.



Steel Wool #0000 makes great tinder and will easily ignite with a battery. Lets try it out with a spark.



We were able to light the steel wool with one strike of the Fire Steel.
* note * Please be careful when using steel wool to start a fire. Steel wool burns through rapid oxidation. The metal catches on fire quickly and pieces of the hot wool will burn your hand.
The ambient temperature was 38° Fahrenheit / 3.3° Celsius.
During testing we poured water on the Fire Steel and start a fire.
The Swedish Fire Steel striker will work while its wet. Simply wipe down the rod and it will spark again after a few tries.
The point to keep in mind is, where do we find tinder material when its damp. This is covered in our Fire in the Rain article.




Fire in the Rain
Knowing where to find "dry" tinder after rain or snow is vital. We use the Swedish fire steel under different conditions in the article.
Some people prefer using a Magnesium Block as a fire starter for this reason. The ferrocerium rod on the magnesium blocks is much smaller but still very capable of creating a spark.
After pouring water on the rod, we were able to ignite this cotton from a tampon.
Overall the Swedish Fire Steel worked great. The larger rod will create a bigger spark which obviously is a plus. Fire starters available today are reasonably priced and lightweight. With all the fire starter options available, it does not make sense not to have one attached to your key chain, backpack or in your vehicle.
Here we start a fire using fire starter squares as tinder.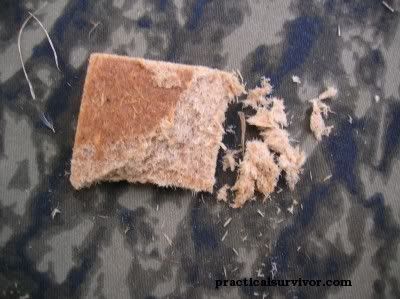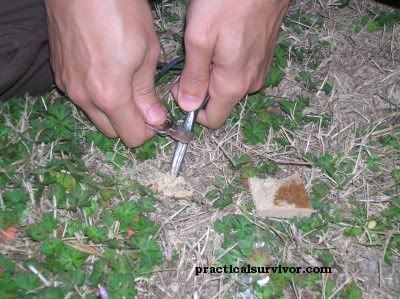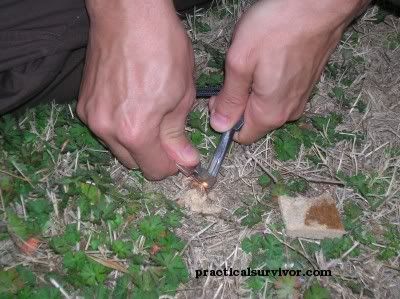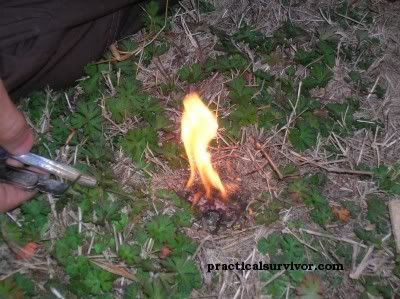 practicalsurvivor.com is licensed under a Creative Commons Attribution-Noncommercial-No Derivative Works 3.0 Unported License.